WELCOME!
AFSCME 1067 Members Partaking in the Working People's DAY OF ACTION! 
Janus v. AFSCME
NEW BEDFORD — Sheila Kearns won't win a spelling bee any time soon, but she grabbed the hearts of those union supports rallying outside of City Hall on Monday. The Union President of AFSCME local 1067 spoke
atop the steps on William Street in front of a crowd of a couple hundred people organizing together on the first day the United States Supreme Court heard oral arguments in Janus v. AFSCME.
"How do you spell entitlement?" she asked the crowd. "J-A-N-U-S."
A few voices in the large crowd surrounding the podium, replied, "That's right."
The case involves a public employee from Illinois, Mark Janus, who is suing AFSCME because he said he is forced to pay union fees despite not belonging to the union. He believes the requirement infringes on his First Amendment right.
The case will decide whether public-sector workers who do not belong to unions must still pay union fees.
Similar rallies were held nationwide and in 11 locations throughout the state including Boston, Fall River, Worcester and Springfield.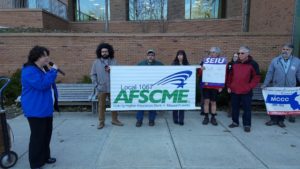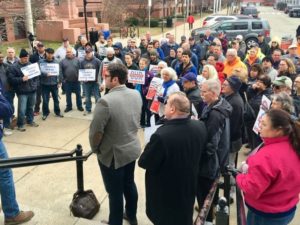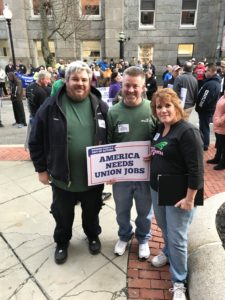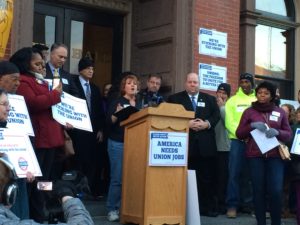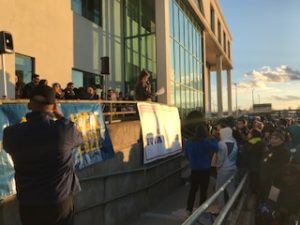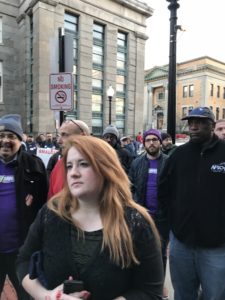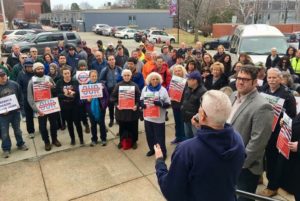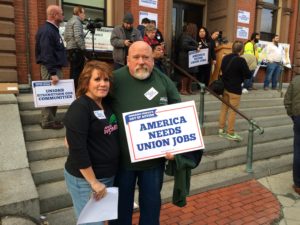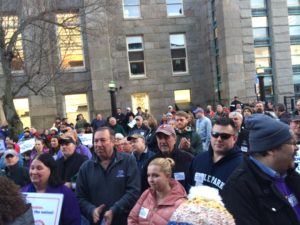 SOLIDARITY!